A family hiking trip sounds very idyllic. With most physical activities, its often the capabilities of the youngest or weakest person, that sets the terms of the challenge.
In our family, we (or more precisely 3/4 of us) had dreamt of hiking up high above the tree-line, especially the hike to Olpererhütte in the Tirolean high alpine. Our dream was initially to do a two day hike and stay overnight at the hut. This was for a few reasons --- one was to make it more interesting and adventurous, and secondly we were unsure how hard the hike would be for our youngest 8 years old, who is also the least motivated hiker.
I had not been able to extract enough information from standard trail maps and online descriptions, and I had no similar experience to refer to, so asking around was needed to be sure it would work. But after having enquired with several locals during the Spring about the difficulty, the length of the hike, the time required and suitable footwear for hike, we felt more confident in embarking on the hike to the Olperethütte with our youngest family member.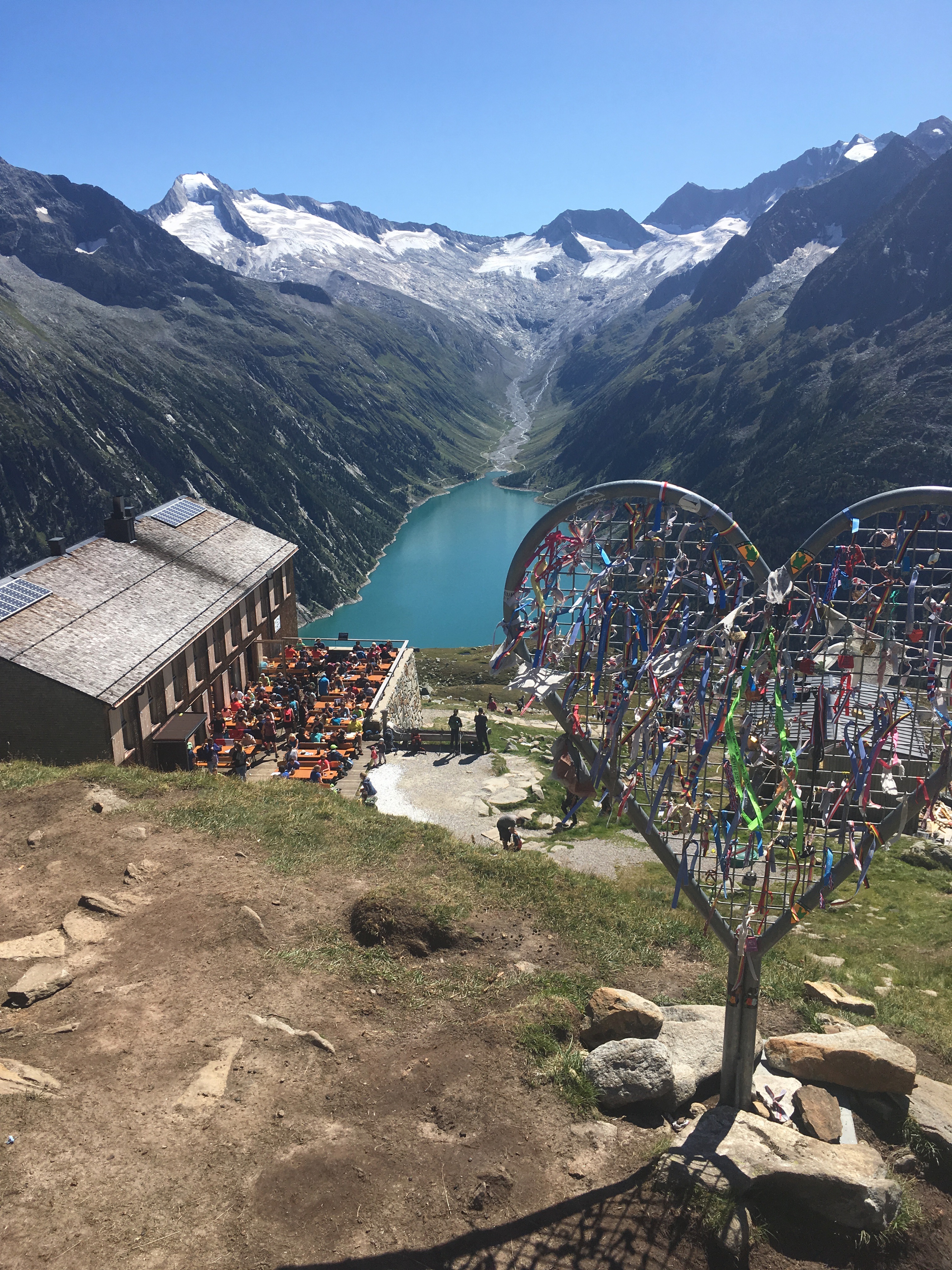 Getting there
So on a sunny day early in September, actually the only sunny day forecast for the week, we headed down through Zillertal towards Mayrhofen. The starting point for the hike is at Schlegeisstausee, so we took the Ginzling turnoff at Mayrhofen and drove 30 mins to the end of the Zemmtal valley.
Between Ginzling and the Schlegeis stausee there is a toll fee or Maut of 12.50 Euro per car. There is a traffic lighted one-way road and tunnel that is about 3km long. All traffic has to take turn in each direction and because of this, you can risk waiting up till 30 minutes to get through.
If you don't have a car, you take a bus from Mayrhofen to the Schlegeisstausee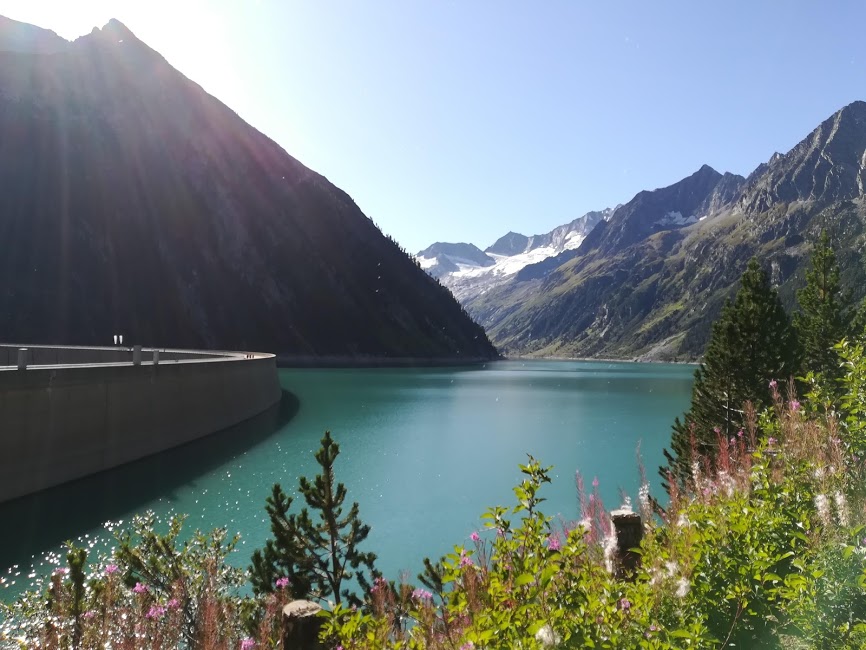 Wow - this was our first impression as we approached the huge dam wall of the Schlegeisstausee! As we passed through the last of the many small tunnels we arrived by the edge of the lake and the water was picturesque blue. I am not sure which minerals gives the water this colour, but it is certainly a bonus for the eye!
There is plenty of parking available. The first huge carpark is at the dam wall while the other and more convenient parking for starting the hike is a further 1 km ahead.
The hike
We set off on our hike with a backpack each, bringing water, a few snacks and a spare jacket in case the beautiful sunny weather would turn on us. Other than the extra jacket, we were wearing shorts, t-shirt and hiking or trailcross shoes with good grip. The weather in the high alpine can turn very quickly so a water and windproof jacket is essential. We only found one place to top up with water along the way so make sure you bring enough, and given the terrain, sneakers or normal running shoes or casual sneakers are not suited.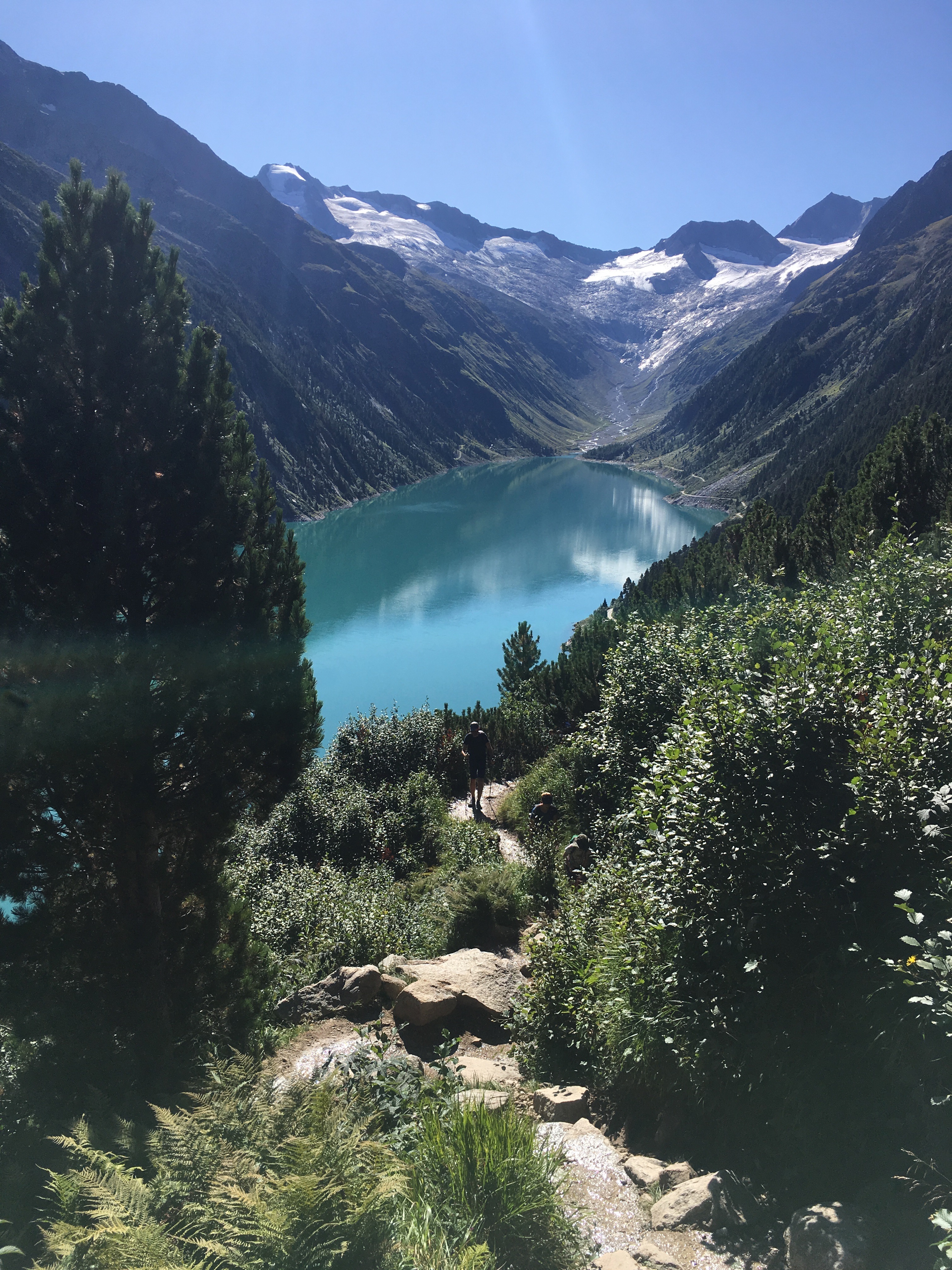 For the trip up, we choose the shortest and steepest route to the Olpererhütte. The advised hiking time on the signs was 1,5 hours and it took us 2 hours with an 8yo in tow. The distance up was 594 meters vertical and in actual walking distance, I am not sure how far exactly but my guess is that it was approximately 3 km.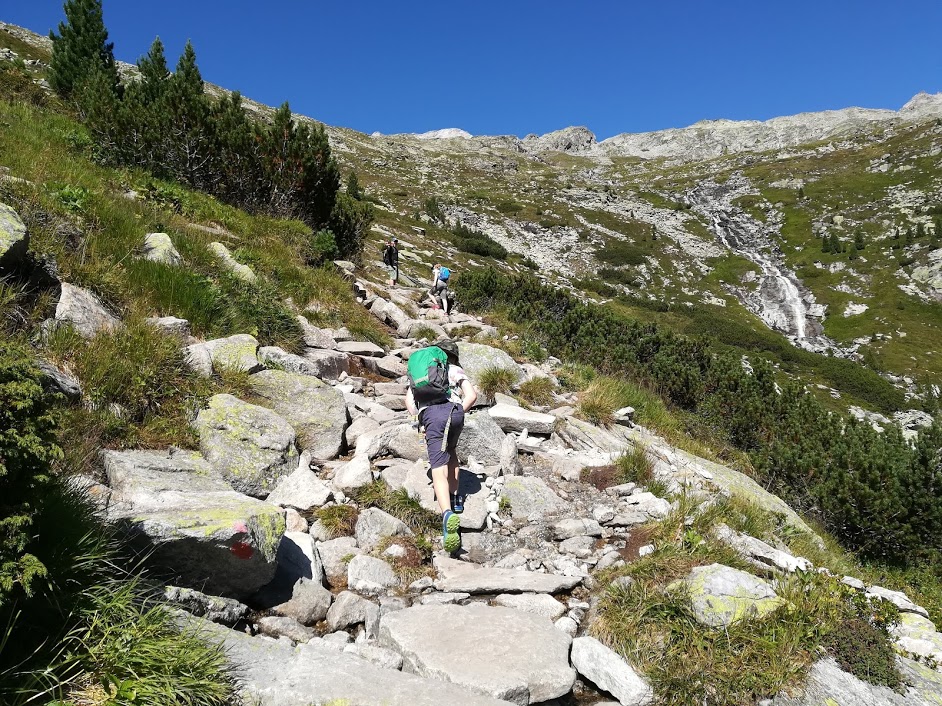 It was relatively steep and we were constantly stepping up using mostly rocks or compressed tree roots as steps. For every turn on the zig-zagging path up, we took a brief look back over the Schleigeisstausee and snapped photos that only got better as we got higher.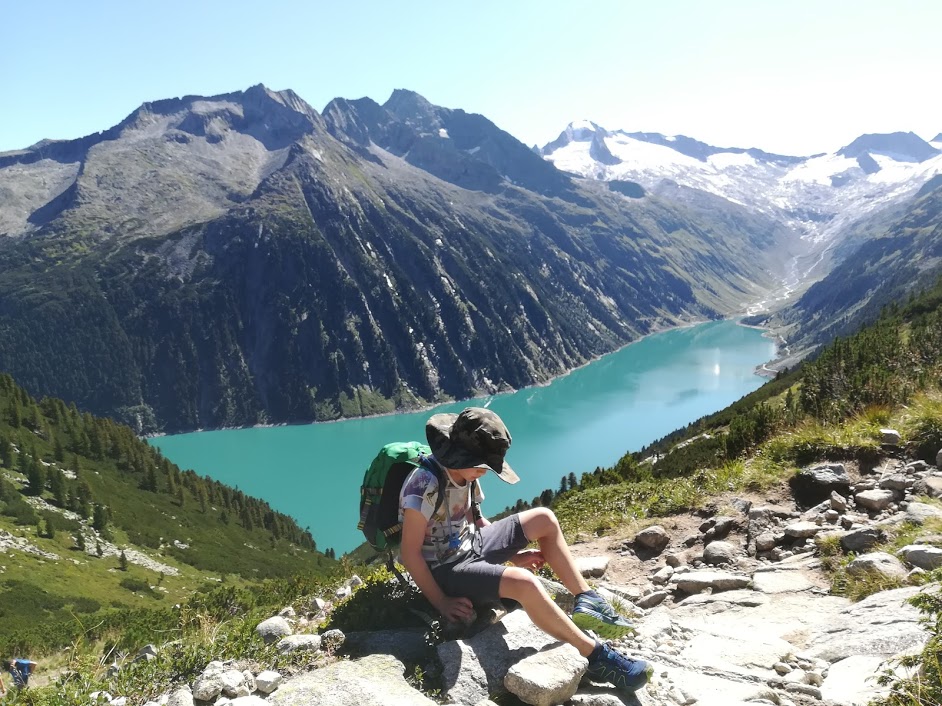 The hike up was perfectly suitable for children from about 6-8 years, provided that they are capable and responsible walkers. By this I mean that they have to be able to walk at least 5 km on flat terrain, and must have enough self-awareness about safety near the many steep edges. I'm glad that we waited until our son was 8 years old as he can be a bit of headless chook and clumsy at times. But his older sister would have had the diligence and safety awareness to hike the trail at 6 years old. So it really depends on the child.
We also came across a few people with small children in big carry rucksacks. Personally, I would not have ventured out on this path carrying a child on my back but this is a choice for individual parents. I find that a wiggely child in a rucksack could easily throw me off balance (maybe it's just my children that are restless). However those parents might have been more experienced in hiking than I feel I am, or have calm children.
As I was writing this, I was just contemplating if it would be any different to a big hiking backpack? But yes --- a child would be a lot more wiggely and lean over from side to side unpredictably, which would affect my balance. That's not a risk I would take on a relatively steep and rocky mountainside.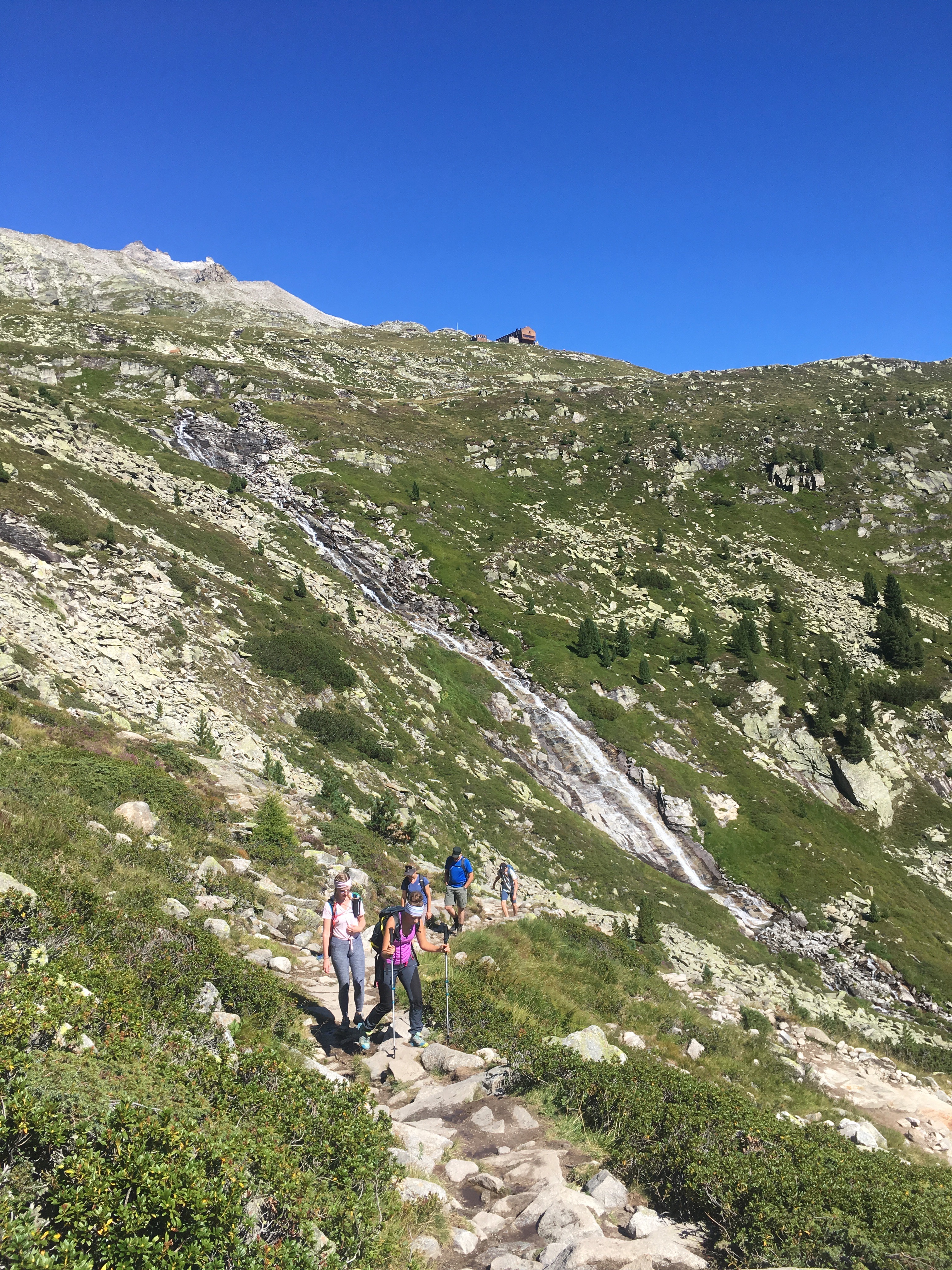 Once we had the Olpererhütte in sight there was only about 1/3 of the way to go, most of the last stretch was over more flat terrain before a last short and steep final "climb" up to the Olpererhütte for a delicious lunch.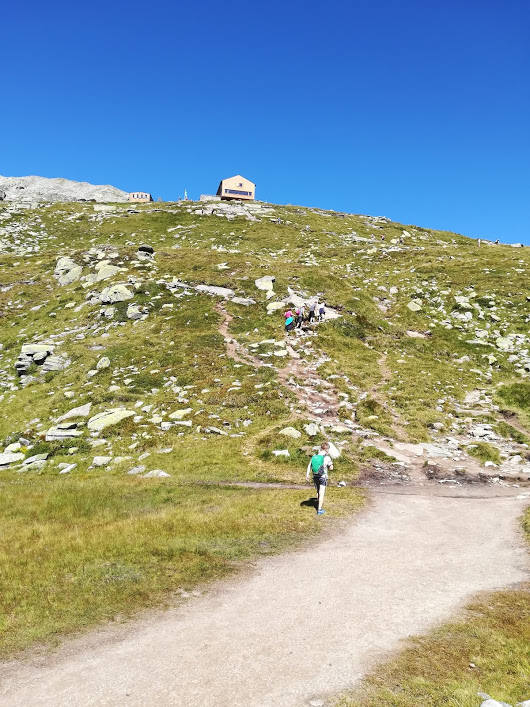 The Hütte
At the top, we got a table on the terrace of the Olpererhütte just in time before it filled up completely. SO many people were out enjoying a hike on this beautiful September day. We shared a Brotzeitteller, a Kaiserschmarnn, and a few drinks for €35. The Kaiserschmarnn was the best one we have ever had --- highly recommended.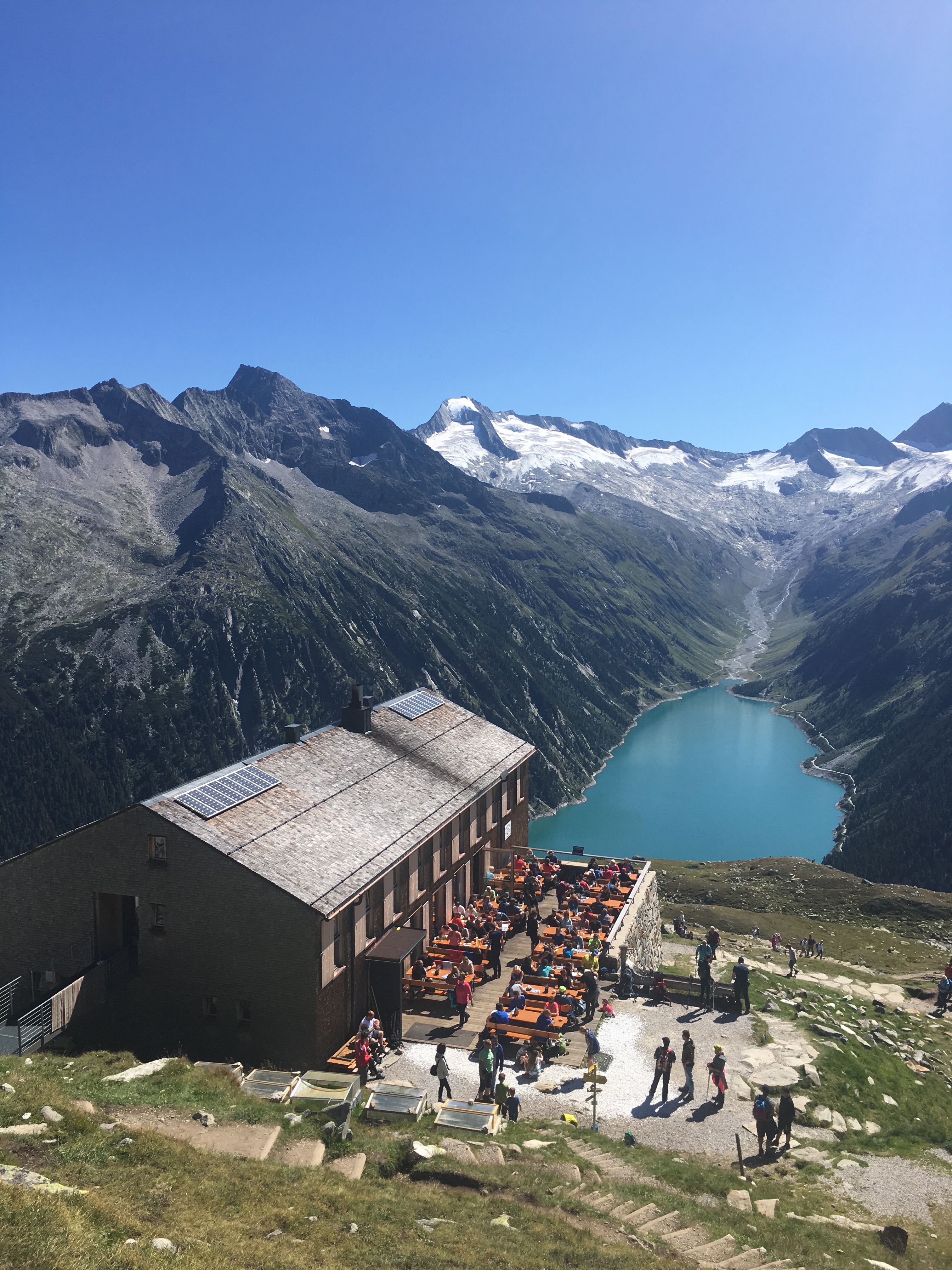 You can also sleep there over-night in either 4 or 8 person rooms. Acommodation can be booked online.
After our lunch break we took a short walk, to see the insta-famous bridge. Yep - the location certainly gives you an impressive view over the Schlegeisstausee. Make sure you bring a telephoto lense if you want a better photo than mine!
The long way down
After our enjoyable break at the Olpererhütte, we had to hike back down. We had to choose between taking the same steep and short track down as we just hiked up, or a 3 times longer route that based on the distance to hight ratio had to be a lot easier. We choose the longer route as steep downhill hiking does not match well to our 40+ adult knees.
Our chosen retun hike was along the route called the Neumarkter Runde. The recommended walking time for the route was 3,5 hours and it was 650 meter vertical. Comparing this to the direct route we hiked up, which had a recommended asend time of 1,5 hours for 600 meters vertical. We were up for a much longer walk back, but hopefully less steep!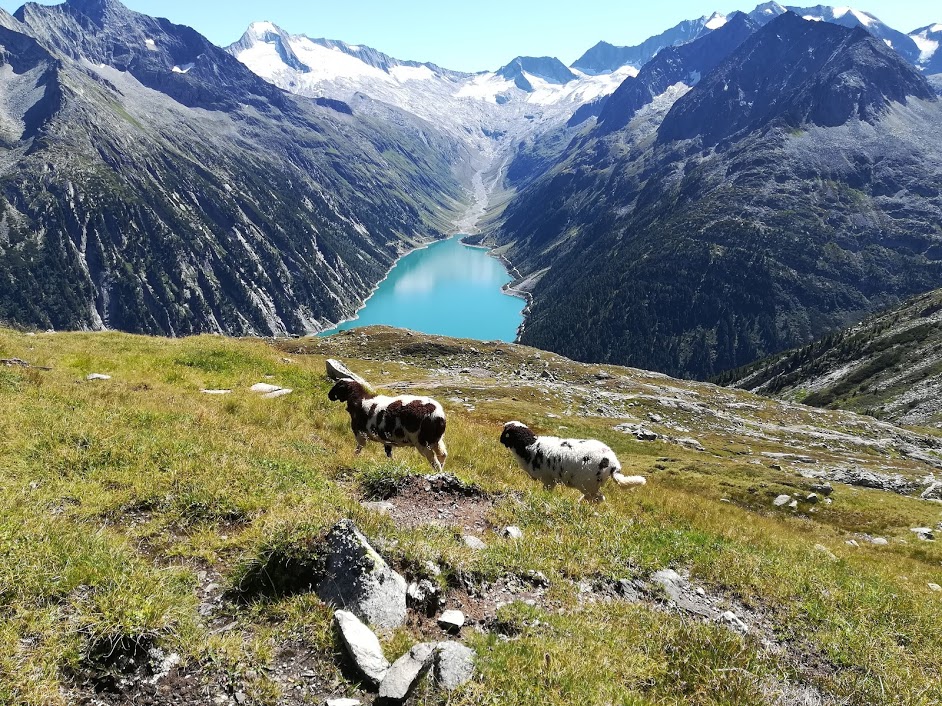 The return hike started on the flat, we enjoyed passing sheep living around the Olpererhütte, and we crossed a cute little creeks running down from the mountain above. Our youngest family member complained as we started an uphill stretch, he was expecting the path to only go down. Much to his dissapointment it was undulating terrain, we had to go a bit further up before it was down.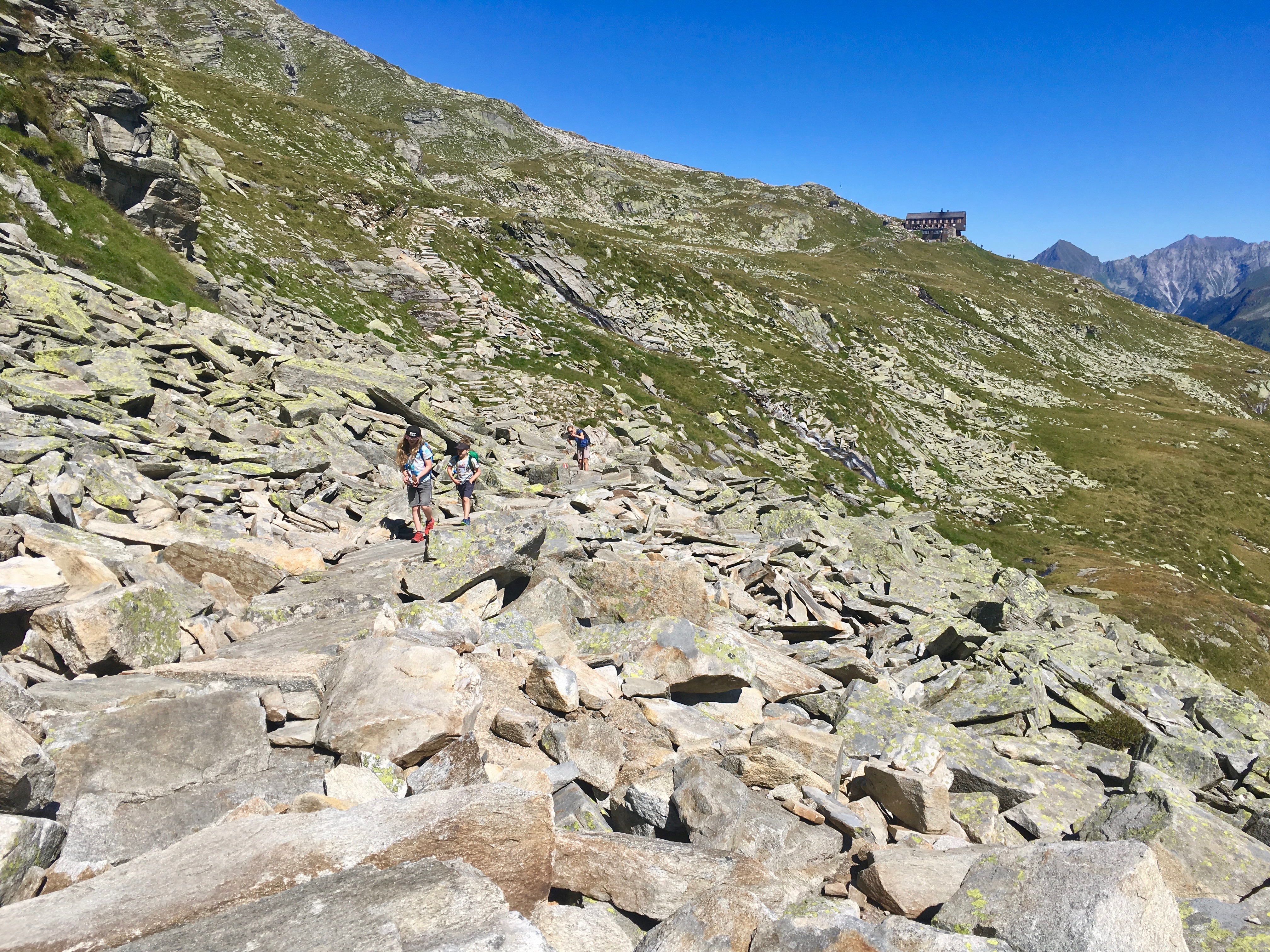 Every step of the way we had amazing scenery. We enjoyed the view of the Schlegeisstausee from many angles on our new path. After a while we slowly made our way around the edge of Scharmmer Kopf.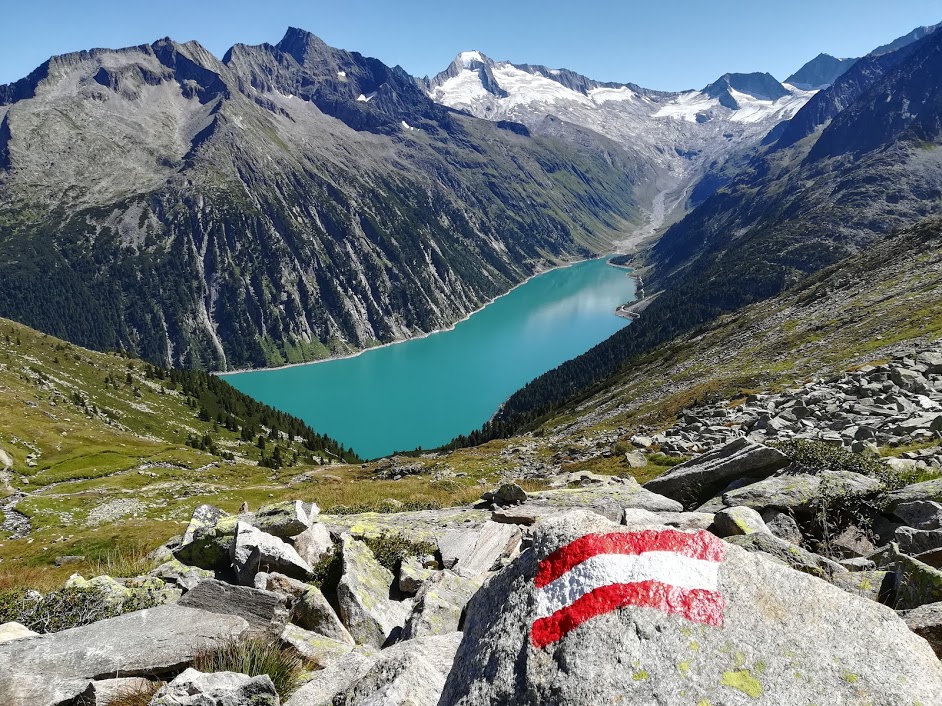 When the hike finally started to desend, the path was at times quite narrow. In one spot there was a 2 meter stretch of via ferrata climbing rope bolted into the mountain wall. We did hold onto the iron rope carefully, as there had recently been a rockslide over our path and the path was only about 20-30cm wide along a rather steep mountainside. Phew! That was a bit more adventourous that I had expected for our family hike, but with precaution all went well! (I didn't get a photo on this crossing as I was busy keeping an eye on my 8 year old who at times is like an unpredictable mountaingoat)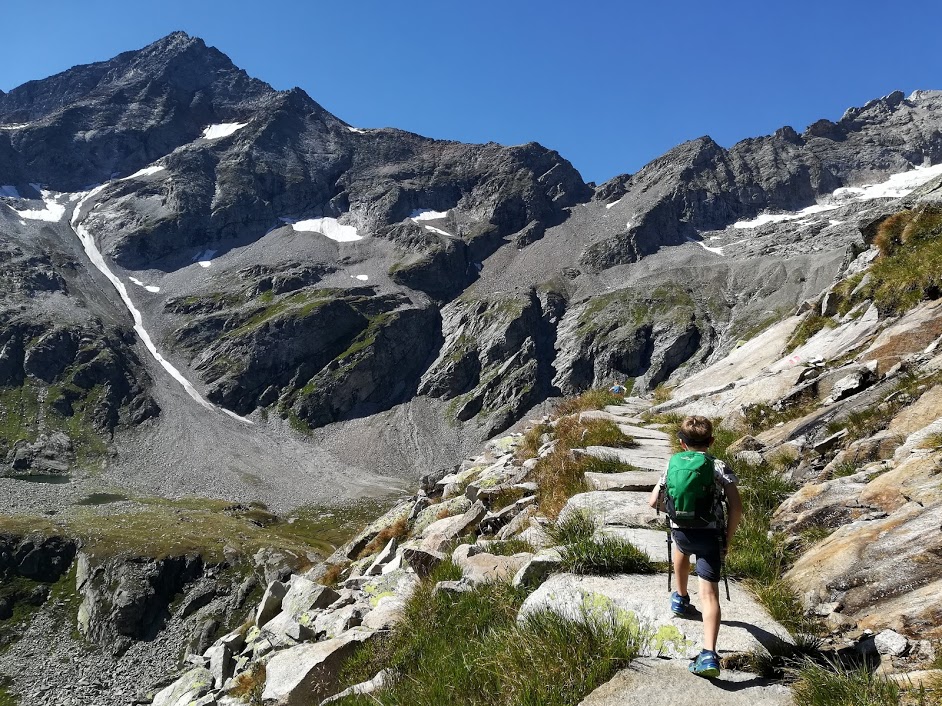 Soon we got a new view in sight, another wow! It was pure nature where the Unterschrammerachbach creek comes down from the mountains above. We took a short break at the creek crossing to cool our warm hiking feet in the icy cold water. We could last about 30 seconds with our feet in the water before aching pain set in.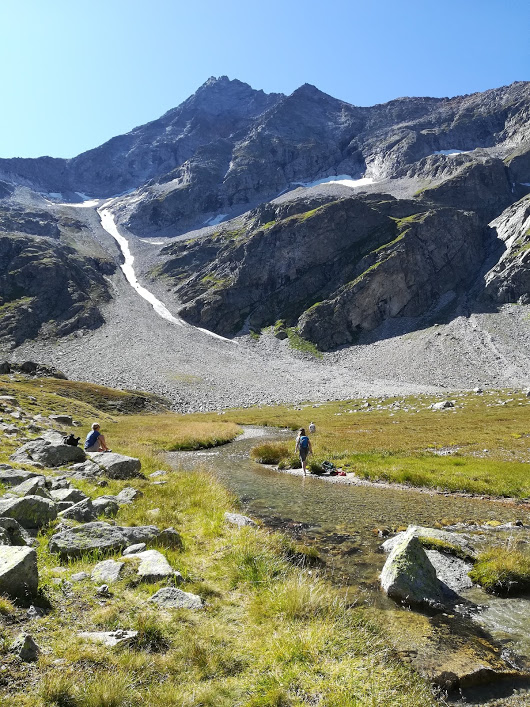 From there on it was just a matter of following the path along the creek down towards the valley. The stunning views were neverending! The final stretch of the hiking section was a bushy, relatively steep and windy path, slow and steady got us back to the Schlegeisstausee. We ended up at the rear car park and the kids got to rest their legs and enjoy a well derserved icecream before we drove back home!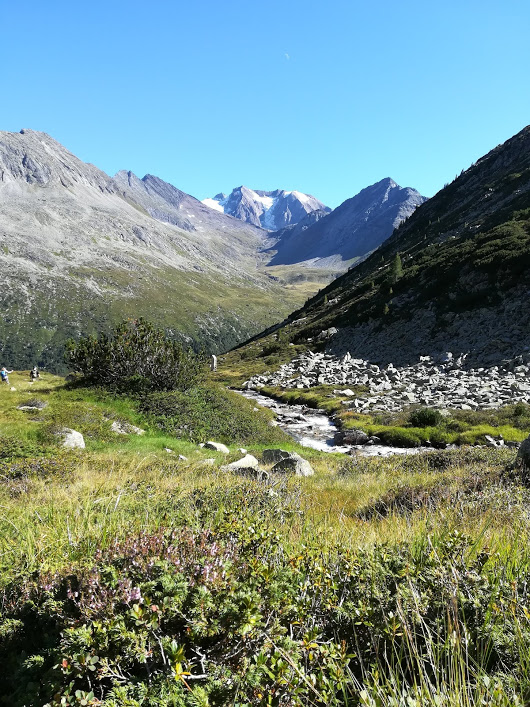 Facts and numbers about this hike
Getting to the start of the hike: