If it is your first time planning a family ski holiday, then one of the biggest questions you will be asking is 'what should my children be wearing in the snow'. Even if you have lived in cold climates before, the alpine environment is different and the thing to remember is this is really two separate questions:
What should I wear?
What should I pack?
Dressing for the Snow
The secret to dressing for skiing is layering - using different layers of clothes to do different jobs, and dressing kids is no exception. Layering helps you stay comfortable by adjusting your clothing to changes in the weather and your activity, kind of like your own wearable thermostat.
(If you live in a cold country, this might sound bleedingly obvious but for many people in warm climates, this might be news to you. The closet thing to layering were we lived in Australia for example, is putting sunscreen on under a hat!)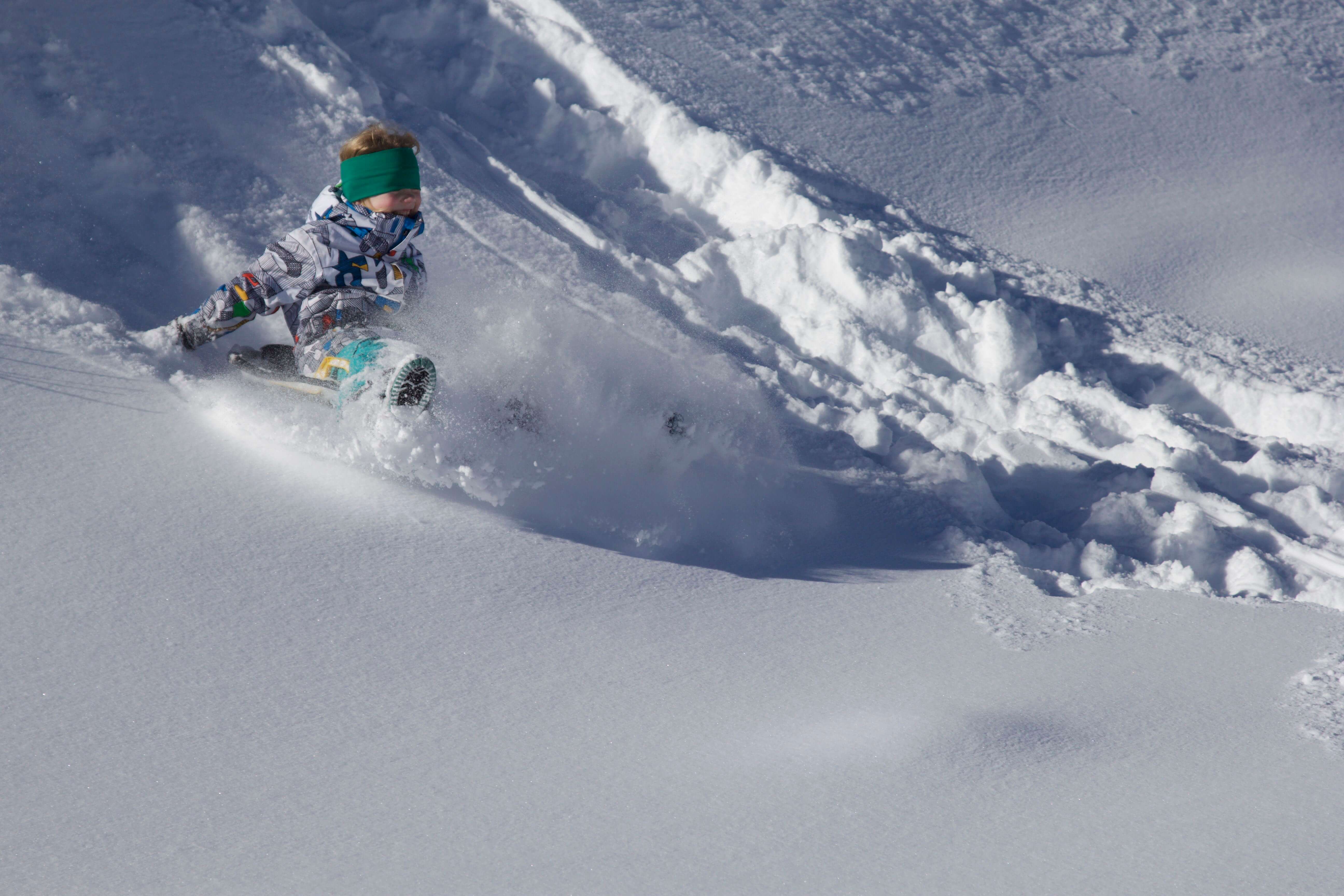 Each layer of clothing has a specific job. The base layer (underwear, socks, thermals) is there to wick sweat away from your skin. When you are active the body sweats to cool you down but when you slow down or stop, wet skin gets cold very fast. By transporting sweat away from your skin to a different layer, a good base layer keeps your skin dry and stops you freezing when your activity levels change.
For adults and experienced or older kids, a good thermal base layer is a must. Whether they are merino wool or polyester, a thermal base layer will keep you warm and dry. But for younger kids, a long sleeve cotton shirt and tights will suffice if they are just beginning to learn how to ski and their outer layer is good quality, breathable and water resistant. This is because younger children don't sweat very much and the first week on skis will be mostly spent standing on skis and learning to balance and stop. Remember though - adults should never wear a cotton base.
Price really doesn't matter for the base layer. Merino wool is more expensive, feels nicer, and doesn't collect body odour as much as synthetic thermals but under a mid layer, they all warm as well as each other. If you do buy good quality thermals though, they can often be passed on between siblings or borrowed from friends, so it's just a question of the price to pay and how extra snug, soft and how well it lasts after many washes (a cheap set lasts at least 1 full season of washes)
One area of the base layer where you shouldn't cut corners on are socks. Ski socks should be soft and comfortable on the inside and yet have a tight snug fit. Do NOT use normal cotton socks. While cotton socks might be fine for playing in winter shoes, they are often too short to go up higher than the edge of the ski boot, so it will slide down and clump into folds inside the boot. Look for a wool blend sock that comes up to just below the knee and has enough elastic and fit to hold during activity. Socks are the only thing between the ski boot and your child's skin so any discomfort from poor fit or falling down will will spoil the fun of the skiing. Remember too that children's feet and hands are two areas where they do tend to sweat so again, NO COTTON SOCKS!
The next layer is the mid layer whose job is to insulate the body by trapping air and protect you from the cold. Fleece is great material for this and fleece jackets are therefore a very functional midlayer. Fleece blouses and jackets comes in a variety of thicknesses and you will have to choose something that will fit comfortably under your outerlayer and also gives the insulation required. The mid layer doesn't need to be wind or waterproof as that will be taken care of by the next layer - the shell.
The outerlayer or shell protects you (and the inner layers) from the outside elements. For skiing its a good to have an outer layer with good water resistance, at a minimum 5,000 mm but preferably 10,000 mm water resistance. Kids will fall, play and just constantly be getting in touch with the snow.
The X,000 mm rating is just a measure of how much water the shell will resist before water passes through. A 10k or 10,000 mm means that if you placed a tube of water over the shell, water wouldn't come through the shell until you had filled it 10 metres high! As a general rule, 10k will protect from light rain and average snow, while 20k Gore-Tex will stop heavy rain and very wet snow. For dryer snow in places like central Canada, 5k is plenty but in wetter snow locations like Europe and especially Australia, look for at least 10k.
On snowy days all the gear will get extra wet unless it's extremely cold and the snow is dry. A one piece ski suit is good for the younger kids who sled, play a lot in the snow, but also quite fine for young skiers.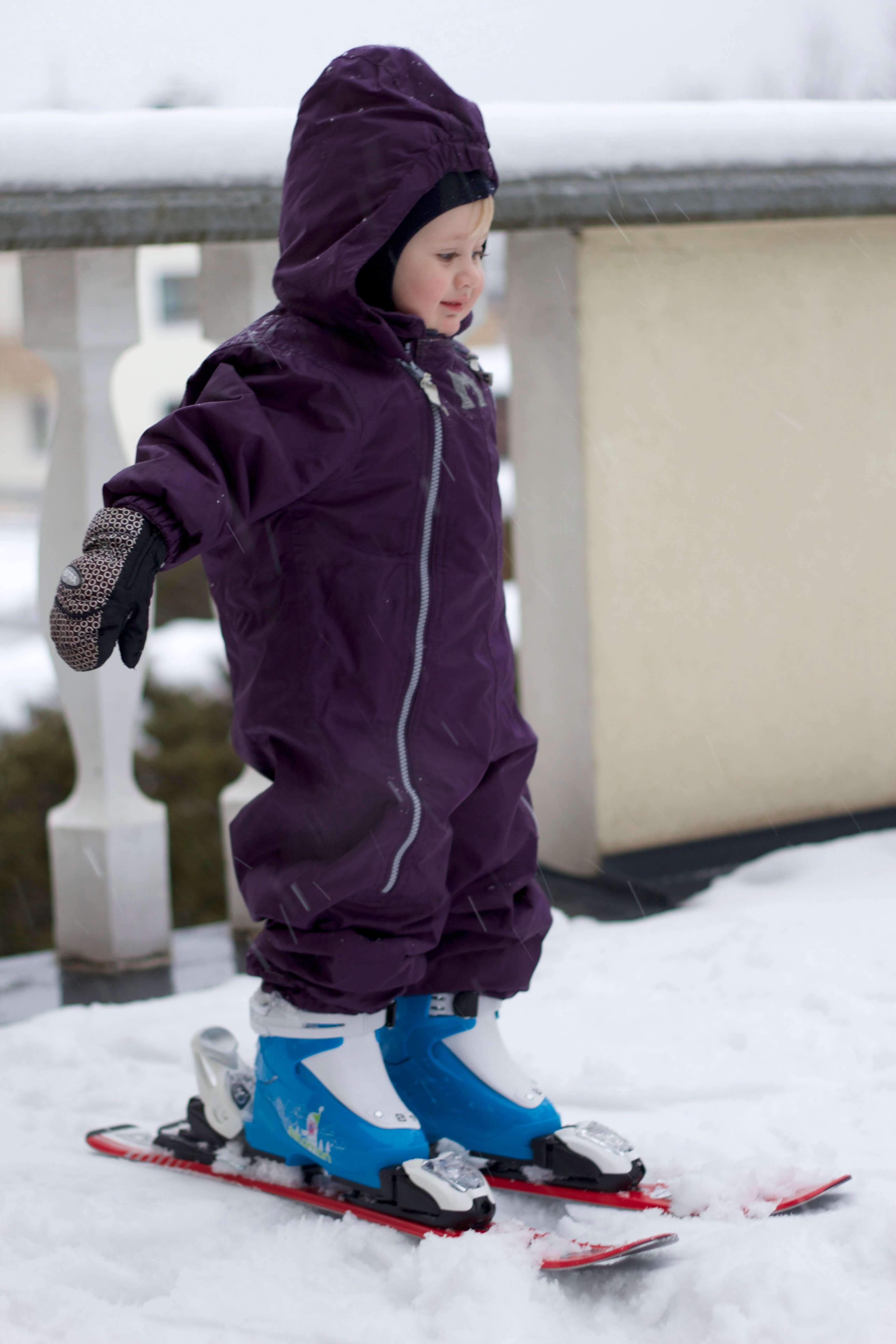 Older kids above 5-6 might appreciate a jacket and pants set. It's good with overalls to help keep the pants up and also to keep the lover back and tummy warm.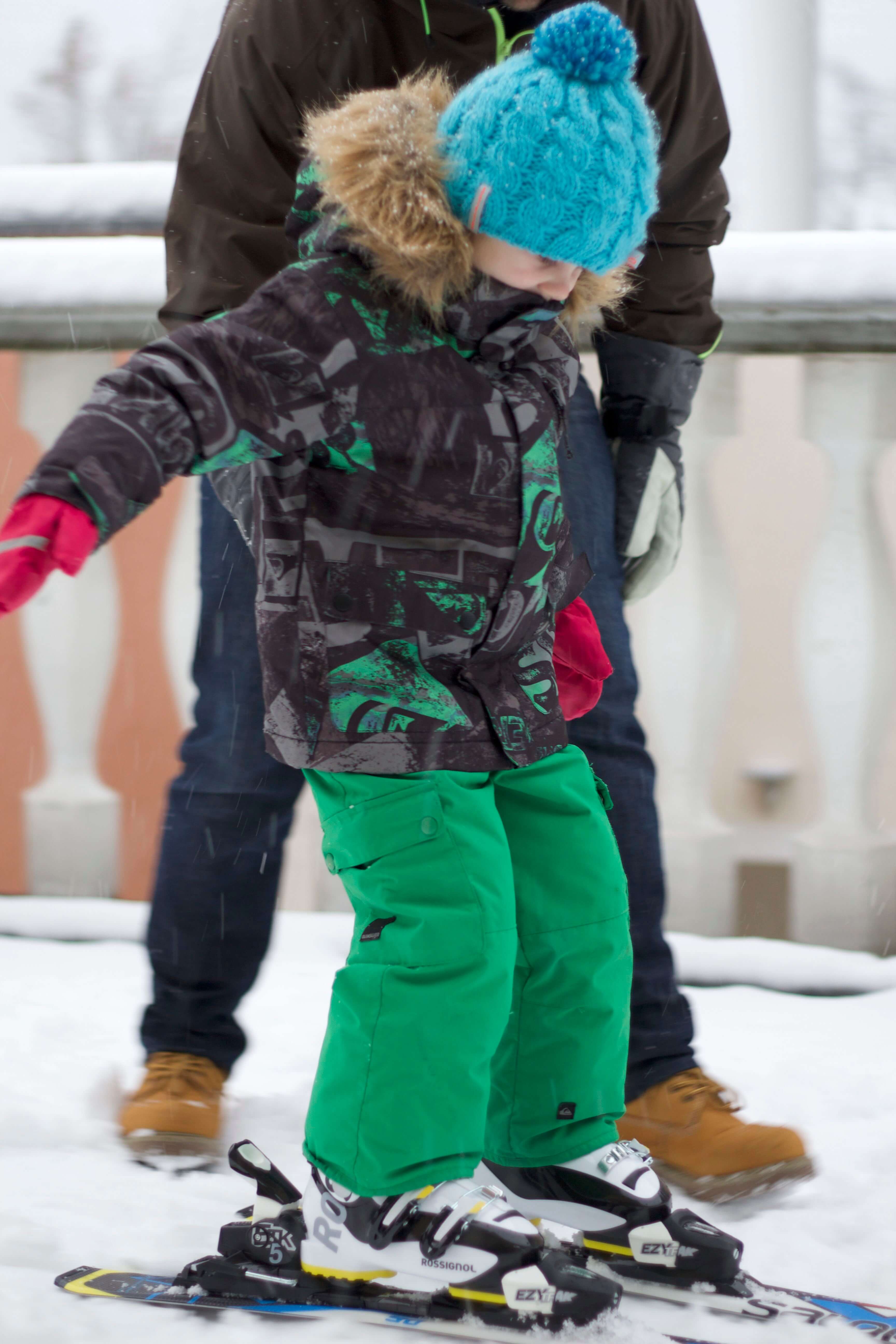 Gloves are one of the most important part of kids ski clothing. They should be waterproof or at least as close to as you can get to water resistant. Soggy, wet, and cold gloves are extremely uncomfortable so waterproof but breathable gloves are the best. Gore-Tex seems to nail it and can be found with many glove brands. However many cheaper models claims to be water proof too. We don't like to risk little fingers so I also by Gore-Tex gloves for my kids.
Alternatively you can carry a spare pair of gloves. Just remember - no knitted gloves or knitted mittens! They soak up wet snow like a sponge and the dry snow sticks to them! For children under 6 or 7, I prefer warm and waterproof mittens. They are easier to put on and best at keeping the little fingers warm. Children can still hold poles with mittens and it is a good idea to test the grip in the shop before purchase. Most ski and sport shops will let you test the grip of a ski glove or mitten on one of their ski poles - just ask the shop assistant.
The hardest job in finding a good glove is to get one that works well with the sleeve. Especially in cold and or windy conditions, you don't want any snow or chill coming in between the sleeve edge and the glove at your wrist. So the jacket either has to fit well over the glove and stay in place or, as I prefer, have a glove that goes high enough to tie over the sleeve. Again, you can purchase the expensive brands but regardless of the cost, get the kids to use the elastic strap inside the glove so there is less chance of forgetting them or just loosing the gloves if they are off for a while.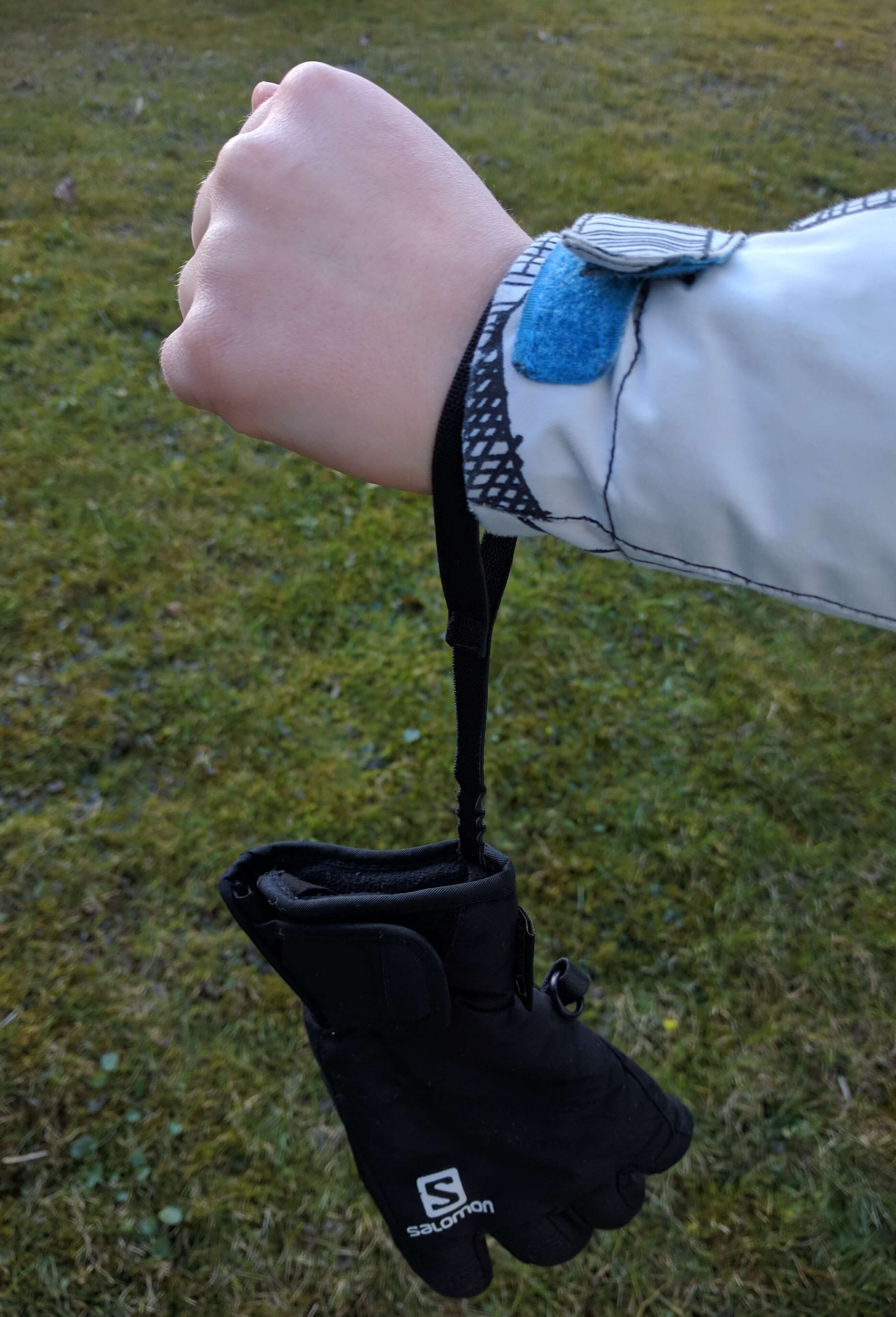 Ski helmets are required by law for children in many countries. You can either purchase a ski helmet or rent one at at ski hire shop. The helmet has to sit well on the head, not loosely rocking side to side or forwards backwards. Lots of helmet models have an adjustment button at the back to tighten the inner frame to comfortable size. It is a really good idea to have a thin helmet balaclava or neck scarf/tube like a buff to wear under the helmet and around the neck and face to protect against wind, chill, or snow. If you hire a helmet it is also more hygienic to wear a balaclava underneath.
Another reason than the hygiene of a balaclava under the helmet is warmth. I always have a tube scarf with me - rather than a balaclava. It is incredible versatile, you can use it as a scarf, as a beanie, as a balaclava over your head and neck. If you fit it right if can help cover any bare skin or around your neck, ears and can be pulled up over the mouth when it's windy, cold or snowing. But if it's warmer you can also use it as a headband when you have your helmet off, or loosely around the neck when skiing. The tube scarf is one of my essentials I always bring skiing, every time!
Ski goggles are necessary and sometimes sunglasses too. Ski goggles are important in protecting the eyes against snow, wind, and the sun. For amazing sunny days sunglasses can be preferred to limit the glare radiating off the snow. When you go out to buy ski goggles it's best to bring your helmet with you. The goggles best suited are the ones that are comfortable, fit well on the nose, gives you good visibility but also fit in line with the front of your helmet. The goggle and helmet should match so there is not a large gap between helmet and goggle exposing your forehead.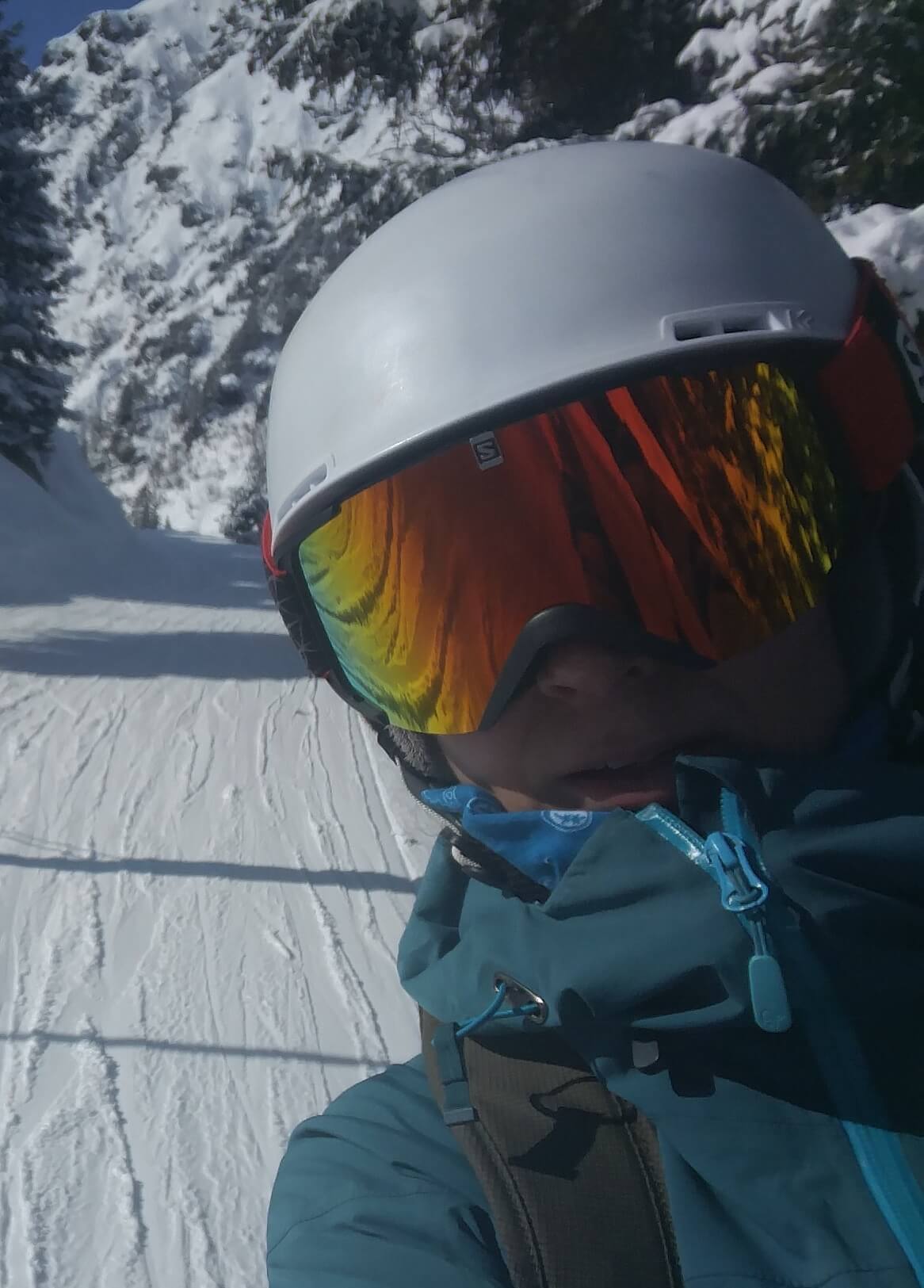 The goggle lens comes in many varieties, there is lenses to suit snowy weather, cloud cover and sun. Kids mostly use goggles all day and an in between all weather goggle is the easiest to bring. If you ski more frequently it can also be advantageous to have a goggle with a changeable sun and a snowy lens, so you can change it according to the weather.
The weather can change a lot in the mountains - you can endure everything from low minus temperatures, super windy days, snow or rain to beautiful blue skies and warm spring days! You will always be one step ahead if you check the forecast before you leave home and also check on a daily basis once you are in the ski resort!
The weather forecasts are rarely perfect but it is a huge benefit to have a rough idea of the temperature and what weather to expect for the day. You need to dress children in layers, often in more than you think is needed, as children do not always notice the cold as fast as adults but once they feel cold, they will be uncomfortable and unhappy! The layers can always be removed if the child becomes too hot and the spare layers carried in a back pack.
Sun protection in the snow is very important too. Sunscreening your face on sunny days is also a health matter, as the glare from the snow doubles the sunburn effect! Don't underestimate the power of the sun, slop it on as we say in Australia.
So what should I pack for the trip?
Thermal pants and shirts. It can be an advantage to have 3/4 length thermal pants is as full length has to be pulled up to the knees to make space for the ski sock. As for thermal shirts we only use long sleeve, though you can buy short sleeve thermal shirts as well.

Ski socks. Real ski socks that goes up till just below the knee.

Mid layer on your upper body. Fleece is one of the most used materials. You can get super thin midlayer fleece or thicker fleece models, the choice of fleece will depend of how insulated your outer layer is and how cold it will be where you go to ski. Super thick for -20c or maybe just a thin fleece in -5c.

Outer layer or shell in form of a jacket, pants or a one piece. Most skiers use the insulated ski pants and jackets. More serious skiiers invest in shell outer layers which don't have any insulation. These have better waterproofing and can be matched with different (or even no) mid layers to get the perfect body temp!

Gloves. For the kids - bring two pairs, at least 1 of the pairs should be mittens for the really cold days. And make sure they are water proof!

Beanie. In between skiing you need a beanie or a head band to keep your head warm.

Sunscreen. Sun protection in the snow is very important too. Sunscreening your face and neck on sunny days is a health matter. Don't underestimate the power of the sun in cold weather as the glare from the snow doubles the sunburn effect!

Sunglasses.

Helmet and goggles. Bring your own or hire them along with ski and boots.
So the short answer is that you need to pack a variety but a good selection of the correct clothing.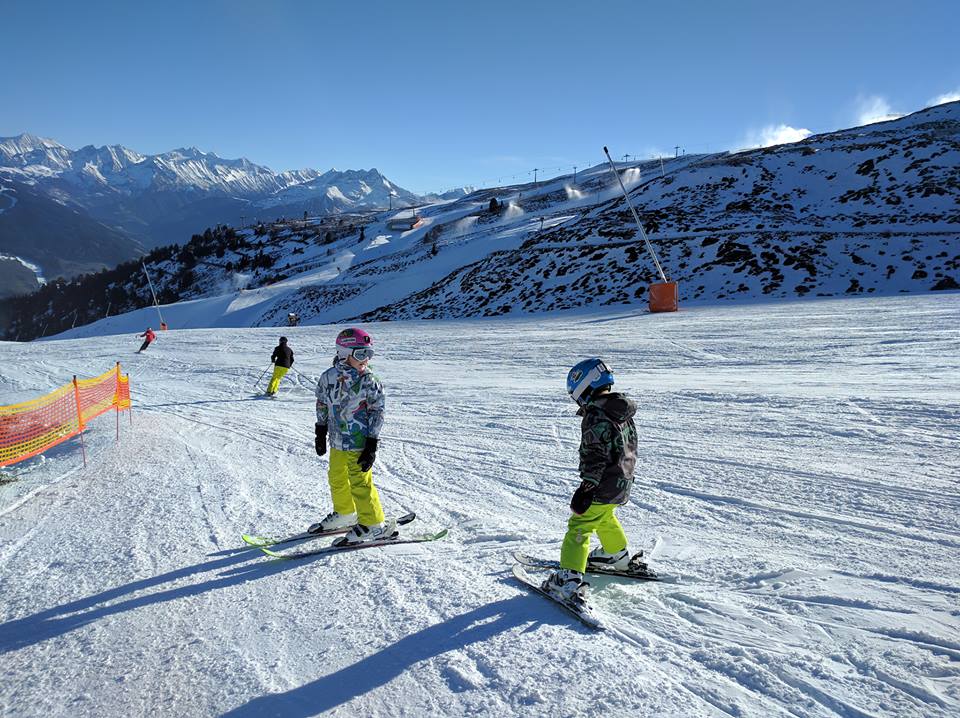 So do you feel ready to dress your child for skiing now? If you have questions or comments to this article, feel free so send me a message.